Are You Our Next Brand Ambassador?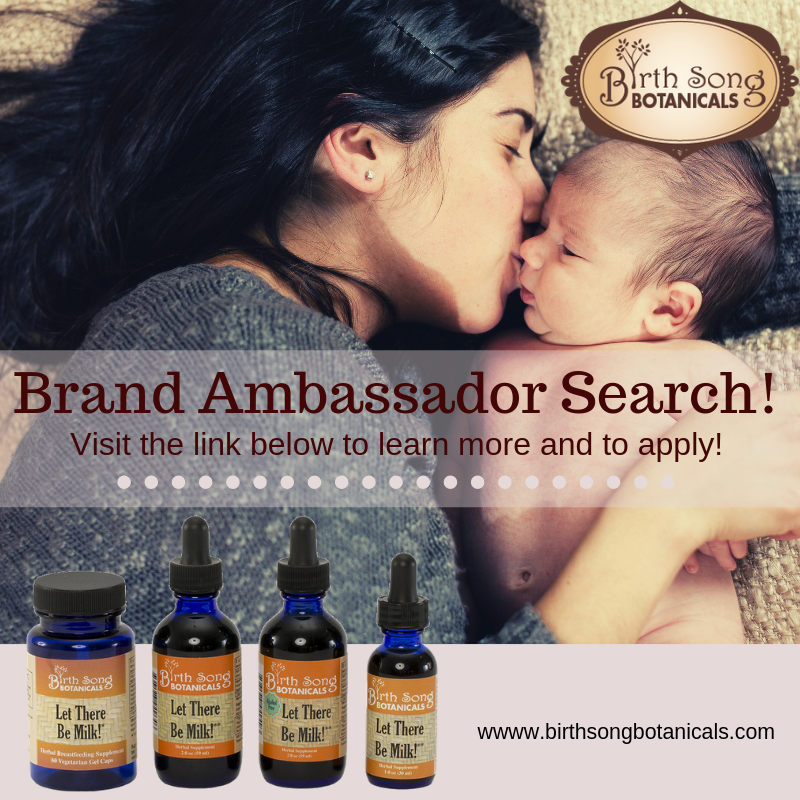 We are looking for interesting Brand Ambassadors that can experience our products and give honest reviews to help other customers make informed purchases and to give us valuable feedback to improve our products.  We strive for pure, safe, and effective herbal products for women and children. As a midwife, my clients often tell me they felt heard and listened to.  They felt valued and safe enough to open up and share their experiences and feelings about birth, and mothering. It is my hope to extend that space to you. We are opening up a genuine conversation about our herbal products and your experiences with them.
The Role:
Help spread the word about new products and company initiatives

Represent the brand

Always be confident, positive and honest
The Expectation:
Post 4 photos every month on Instagram and other social media pages such as Facebook and Pinterest. (You must have a public account)

Give personalized and genuine product reviews on the product page on our website, Walmart and Amazon store.

Use the hashtag #birthsongbotanicalsco and @birthsongbotanicalsco when posting.

Ambassadors agree to post on social media

 

within 7 days of receiving the products.

Don't post any photos showing other direct competitors.
Social Media Posts Guidelines:
Get CREATIVE! Show an image or post a video of the product that you are reviewing. The product needs to be in good condition in the photo.

Do an unboxing video, or a video of you or your child taking the product.

Post the image on your Instagram, Facebook and other social media accounts.  

You must have a public Instagram account agree to share it to Facebook and make the post public. (We will not be able to repost your review if it is private.)

Tag us with #birthsongbotanicalsco
Product Page Reviews:
Ambassadors also agree to leave a review on 

www.birthsongbotanicals.com

  product page, in our 

Birth Song Botanicals Amazon store and Birth Song Botanicals Walmart.com store.

When leaving your review we are looking for helpful feedback.  Please be specific. We are asking for your genuine review so please be honest yet positive.  How did the product work for you? What results did you experience? Did it meet your expectations?

After you have completed the reviews send us a link to each review to in the Brand Ambassador Face Book Group. 

Ambassadors agree to leave a product reviews within 14 days of receiving the product.
Brand Ambassador Terms and Conditions:
Birth Song Botanicals, selects individuals and/or companies or organizations to serve as Brand Ambassadors for our suite of products and services. Typically, Brand Ambassadors are provided $75 product credit in 3 month terms at no cost in exchange for promotional consideration. The following terms and conditions apply to Birth Song Botanicals brand ambassadorship:
Brand Ambassador packages or no-cost coupon codes may not be redeemed by anyone other than stated Brand Ambassador.

Birth Song Botanicals, at no time whatsoever, is under any obligation to provide product(s) at no cost to any Brand Ambassador and such products or shipments are at the sole discretion of Birth Song Botanicals.

Brand Ambassadors shall not sell Company products on unauthorized websites on the Internet or in public, retail or service establishments.

Brand Ambassadors shall not sell Company products for resale.

Brand Ambassadors shall present Company products in a truthful, sincere and honest manner, and shall conduct themselves in a manner that reflects the highest standards of integrity and responsibility in keeping with the reputation of Birth Song Botanicals.

Brand Ambassadors shall protect Birth Song Botanicals trademark and trade name by not reproducing Birth Song Botanicals name and/or trademarks or copy any of Birth Song Botanicals materials for use in any advertising without the prior written approval of Birth Song Botanicals.

All Brand Ambassadors are independent and in no way are employees, agents, partners or franchisees of, or considered a member of any joint venture with Birth Song Botanicals. Brand Ambassadors shall not be treated as employees with respect to this Agreement for federal, state or local law tax purposes, or otherwise. Brand Ambassadors hereby agree to abide by all federal, state and local laws relating to my Birth Song Botanicals business.

Brand Ambassadors are not covered by any State Unemployment or Workers' Compensation Act.

Brand Ambassadors must provide a mailing address inside the United States of America

Brand Ambassadors cannot act on behalf of, represent or execute any contracts on behalf of Birth Song Botanicals.
Birth Song Botanicals may amend the Agreement at its sole discretion.

In the event Brand Ambassador does not share their views or make their posts on said product as stated in our guidelines, the Brand Ambassador will be charged for products received.

If a Brand Ambassador has an issue or problem with any of our products you must bring them to our attention prior to posting or you will be charged for your product.

Brand Ambassadors must not own their own business that is similar to or competing with Birth Song Botanicals.

Brand Ambassadors must not be Brand Ambassadors for other competing companies.
Choosing Which Product to Review
If you feel like you are the perfect fit for our Brand Ambassador Program fill out our short online application.   Thank you so much for participating!  I'm looking forward to working with you, seeing your creative posts, and sending you some great products!