LESSON 2- Start With Wellness -Cooking with Medicinal Herbs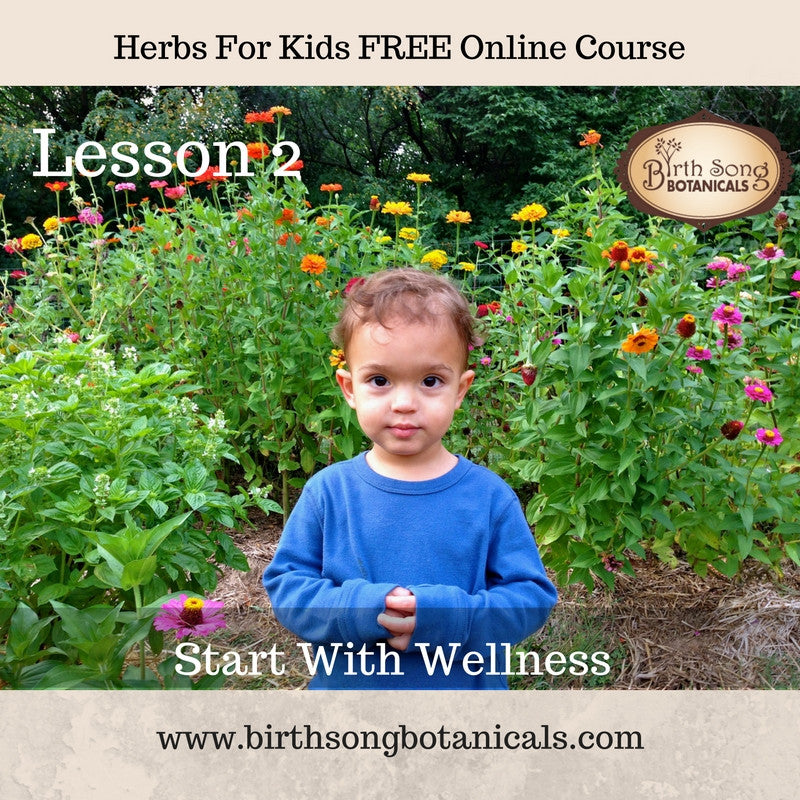 Start With Wellness
The health of our children is, as it should be, one of our greatest priorities as parents. We want the best for them, but sometimes we don't quite know what to do, or how to break the cycle of perpetual sickness.
Life can be stressful for the modern family. Oftentimes, two parents are both working at their job, which consume most of their time. Single parents carry the entire load by themselves. Children are over-scheduled at school or daycare with little outside playtime. They are exposed to a plethora of pathogens. Due to a lack of time and money families are eating more processed food than ever. The American diet is filled with sugar, artificial colors, and preservatives. Food allergies are at an all-time high. More and more children are suffering from physical and emotional illnesses.
As you can see, the herbs are just a piece of our children's health. Our lifestyle plays a huge role. If we stay in this cycle of stress, poor nutrition, overly scheduled busy days and not enough sleep, we cannot expect to just give a little echinacea tincture to our child once she's child already sick, and see great results. What happens then is that child stays sick and the parents conclude that the echinacea did not work. So, herbs are dismissed as ineffective and the cycle continues.
Bolstering our children's immunity takes constant diligence and effort. It requires that all the pieces fit together in order for their vitality to really shine! That's why you are in this course: you want to let your child shine! Living and eating vibrantly every day can help your family stay healthy, but when you start to notice your child is falling ill, it's really time to make a few dietary changes.

Cooking with Medicinal Herbs
In our family, food is our medicine. When the weather gets cooler, the teapot and soup pot stay on the stove. When a family member begins to feel like he or she is getting sick, we eat our medicinal herbs for dinner.
Let me share with you one of my favorite medicinal soups. It is delicious, nutritious, and incredibly easy to make. Cooking with medicinal herbs such as Astragalus is an excellent way to get "noncompliant patients" to take their herbal medicine. They don't even know it is in there; they think they're just eating dinner!
Astragalus is categorized as an adaptogen and an immunomodulator. Astragalus has a very long list of impressive qualities that include antioxidant, cardiotonic, diuretic, hypotensive, immunostimulant, and tonic properties. It is effective at preventing infections and restoring the body after an illness. However, Astragalus is not recommended during the acute stage of an illness or during a fever (Upton 2005). According to traditional Chinese medicine, Astragalus may make the fever last longer or become stronger. Long-term use of Astragalus is generally limited to one dose daily for one month. Astragalus has no serious side effects and is considered safe at recommended doses. However, it can interact with other medications and herbs. If you or your child is being treated with immune-suppressing medications, you should not take Astragalus (Romm 2012).
Ingredients: Astragalus Root, Ginger Root, Garlic, Onions, Shiitake Mushrooms, Arame Seaweed, Sweet Potatoes, Kale, Carrots, Broccoli, Miso Paste, and bone broth (or vegetable broth if you prefer).
❖ My base is usually chicken broth, made from a whole chicken I baked a few days before. When I make the broth, I always add a lemon or lime to the water. The acid from the citrus helps pull the calcium from the bones, which enhances the nutritional value of the broth.
❖ After straining the broth, I add ginger, garlic, onions, and astragalus root to my soup pot.
❖ At this point, I begin to soak my seaweed in water. When it's soft, I add it and the other vegetables to the broth.
❖ Near the end, I add most of my spices for flavor and the kale or other dark leafy greens.
❖ When the soup is finished, I remove it from the heat and add plenty of miso to flavor.
❖ You can remove the Astragalus root before serving.
❖ If your husband is like mine, you'd better add some spicy hot peppers! 
CHILDREN'S DAILY IMMUNE TINCTURE- with Astragalus Root
Our children's lives are so FULL of activities and stimulation, even at a very young age. Parents are looking for creative ways to keep their kids healthy. It starts with diet, herbs for kids, sunshine, exercise, and plenty of rest. Herbs are vital components to our children's immunity in our modern, fast-paced culture. Children's Daily Immune Tincture is a great and easy way to support and strengthen children's immune and respiratory systems to help keep them healthy.
Children's Daily Immune Tincture is loaded with Astragalus, Echinacea, Anise Seed, and Rose Hips, which support the immune system and are safe for use as a daily tonic.
Children's Daily Immune Tincture is the perfect companion to Children's Immune Boost Tincture. Children's Immune Boost gives kids that extra BOOST to feel better and Children's Daily Immune strengthens their immune system before they catch that bug!
Order your bottle of Children's Daily Immune Tincture today
* This information is for educational purposes only.  This is not intended to treat, diagnose, or cure any illness or disease.  If you are concerned about your child's health seek medical care.