The Origin Story of Birth Song Botanicals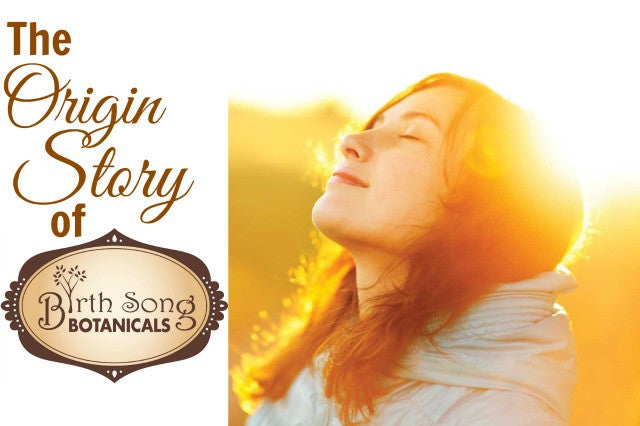 Growing up in the mountains of northern California, I vividly remember playing outside as a child. From my favorite spot, I could see a cropping of rocks that had been ground down by the Native American women.  This is where they had ground their nuts, herbs, food, and medicine.
I would play out there for hours, making "medicine" in those ancient stones.
From a very early age, when people asked me, what I wanted to be when I grow up, I would tell them "An Indian woman," and when they asked why, I said, "Because they know how to make medicine."
In 2000, I moved to Fayetteville,  I immediately got a job at Ozark Natural Foods (ONF), a local natural grocer, and applied for midwifery school.  I committed the next three years of my life to midwifery school and my apprenticeship.  In my final year, I married my husband, who also worked at the store, and gave birth to our son.
One month later, in August, with my baby breastfeeding in the sling, I took my 8-hour state midwifery exam.  By October, I was back to births.  
When I was pregnant, I worked at ONF and was surrounded by midwives who knew a lot about herbs.  But at that time, there were not many herbal products intended to support women through pregnancy and birth.  The products that were available did not taste good, did not look beautiful, and were not easy to take
My own herbal experience through pregnancy and breastfeeding motivated me to make custom remedies for my midwifery clients.
It did not take long to see the pattern of remedies that clients needed again and again.  Thus, Birth Song Botanicals was born in 2009.
It started out as a small herbal apothecary in my midwifery office. At that time, I grew and custom-made all the herbal remedies for my clients.
Today, we have grown into a thriving and sustainable herb company.
Our products are made following the Good Manufacturing Practices (GMPs). GMPs confirm purity and safety. Herbal and ecological stewardship is of utmost importance to us. We craft our remedies with organic and ethically wild crafted herbs.
In order to accurately confirm the purity and quality of the herbs we work with, we obtain Certificates of Analysis (COAs). COAs certify that each herb has been laboratory tested. COAs confirm that the herb is organic or wild crafted for the plant, plant parts, as well as when and where it was harvested, if there are any treatments or additives, and that there is no bacterial growth present. The lab checks for Coliform, E. coli, Salmonella, as well as yeast and mold.
Also, for quality control, we retain a sample from each and every batch made. We pay attention to detail in all areas of production. This same attention to detail continues with our record-keeping. We have a computerized tracking system that monitors our inventory in case there is ever a recall.
Our Women's Collection is carefully and thoughtfully designed to meet the many needs of women through fertility, pregnancy (including postpartum), and breastfeeding. Women need healthy, effective herbs, to support and nourish them during this vital time in their lives.
Our Children's Collection is tenderly formulated for children's delicate yet resilient systems. Children respond so well to herbs and love to take them when they taste good.   Our delicious herbal formulas are pure and effective.  Your child will love them as much as you do!
We go the extra distance because we care about quality, and we care about you, and your family! We know that pregnancy, childbirth, and lactation are a very special time in your life. Your small and growing child is delicate, and requires gentle, effective, and delicious herbal remedies. Mindfulness and safety are of great importance to us.
Now I'd love to hear from you! What inspires you to use herbal remedies for your family?