5 Simple Herb-Based Recipes for New Moms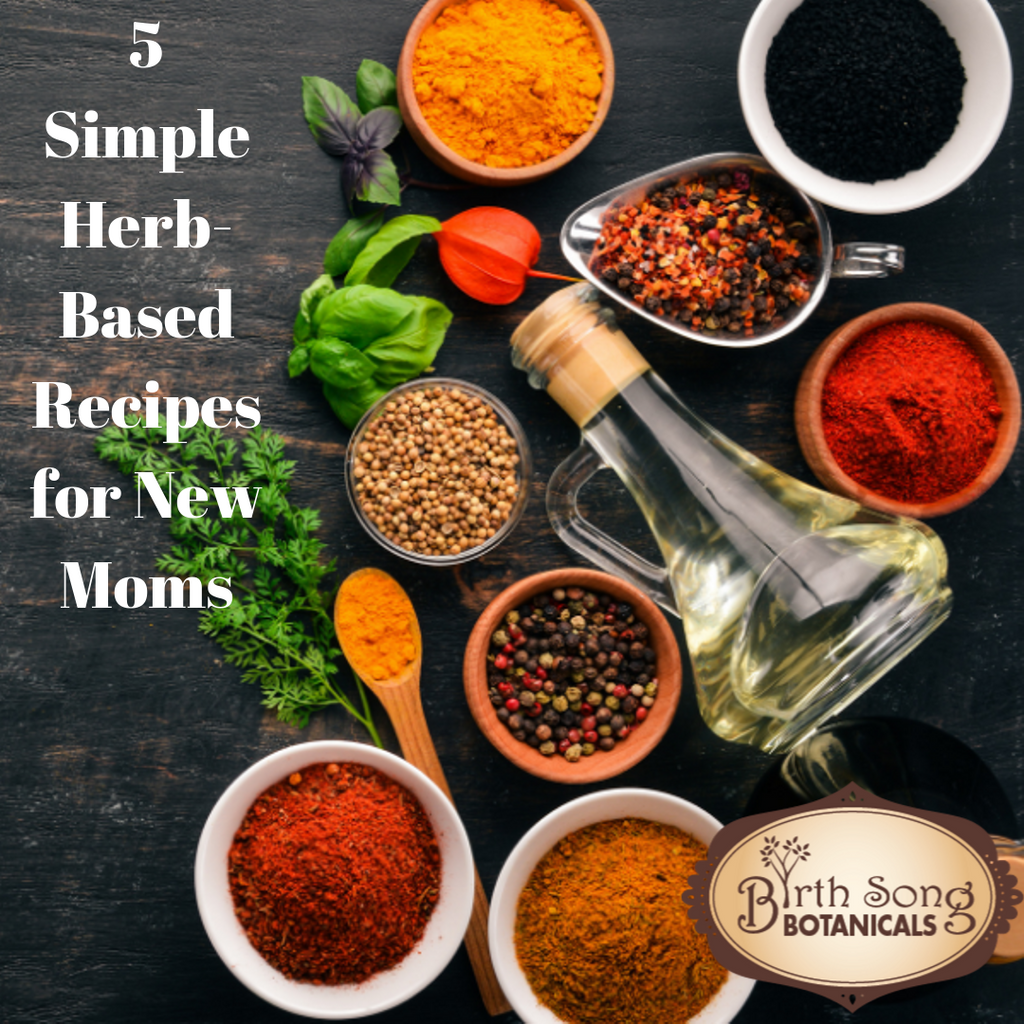 Organic wellness is about more than simply enhancing your body's livelihood with herbal remedies and tinctures. As a new mother, eating properly and nutritiously is as equally important for the message it sends to your family as it does for your own well-being. A properly balanced diet should always be fundamental when considering your well-being. Luckily, just as they grant health benefits in their supplemental forms, herbs can be used in a wide assortment of dishes to do the same. Here are five simple recipes using fresh herbs that will make your body and mind (and your family's body and mind) healthier, and everyone's taste buds happier!
Parsley Pesto
One cup of parsley provides over 1000 percent of your daily value of vitamin K, plus it's rich in myricetin, a flavonoid that is thought to contain anti-cancer properties. Beyond that, it's intensely flavorful, adding a fresh, unique taste to many dishes. Pesto is a great way to incorporate the tang and nutritional qualities of parsley into pasta, poultry, vegetables, rice, and much more. Here's a simple herb-based recipe for parsley to try:
2 cloves garlic
2-3 cups packed and stemmed parsley
1/4 cup walnuts
1/2 cup parmesan cheese
2/3 cup olive oil
Salt and pepper to taste
In a food processor, place garlic, parsley, salt, walnuts, and cheese. Process until formed into a paste. Gradually add olive oil. Enjoy with your favorite dish. 
Rosemary Potatoes
Rosemary is a great source of iron, calcium and vitamin B6, and research suggests rosemary may even deter the formation of carcinogenic compounds during certain forms of cooking. Those are not even all the health benefits it offers. Rosemary goes great with many dishes, adding a unique and delicious flavor to meats, vegetables, starches, and more. Here's a tasty recipe for rosemary potatoes.
1 1/2 pounds of potatoes 
1/8 cup olive oil
3/4 teaspoon salt
1/2 teaspoon black pepper
3 cloves minced garlic
2 tablespoons minced fresh rosemary leaves
Preheat oven to 400 F. Half or quarter potatoes into a bowl. Toss with olive oil, salt, pepper, garlic, and rosemary until potatoes are evenly coated. Spread potatoes evenly on a baking sheet and bake for one hour, or until browned and crisped. Turn occasionally to ensure browning on all sides. Remove, season to taste, and serve.
Dill Vinaigrette 
Dill is a herb known to contain high amounts of calcium and iron. Additionally, it can boost immunity, relieve gastrointestinal distress, help arthritis, and even aid sleep - not to mention it's positively divine freshness and zest. While dill goes well with many dishes, adding it to dressing is quick and easy, and can help further boost the wholesome qualities of fresh greens, pasta, and rice.
1/4 cup vegetable oil
2 tablespoon red wine vinegar
1 1/2 teaspoons white sugar
1/2 teaspoon fresh dill chopped
1/8 teaspoon salt
1/8 teaspoon garlic powder
1/8 teaspoon onion powder
1/8 teaspoon dry mustard
1/8 teaspoon black pepper
In a blender, combine all ingredients until smooth. Cover and refrigerate until chilled.
Mint Rice
Having long been revered for its stomach-soothing qualities, mint is a useful, tasty addition to many foods. Here's a simple way to add it to your diet:
4 cups chicken broth, vegetable broth, or water
1 tablespoon butter or substitute
1 teaspoon salt (more to taste)
1 cup brown or white rice
1/2 cup packed fresh mint leaves
Bring the broth or water, butter, and salt to a boil in a large saucepan over high heat. Add the rice and cook uncovered at a full boil, stirring occasionally for seven minutes. Stir in the mint and boil until the rice is tender for an additional minute.
Remove from the heat, cover, and steam for three minutes — the texture will be looser and similar to risotto rice than steamed rice. Remove the mint leaves if desired. Taste and season with more salt as needed.
Thyme Lemon Chicken
It's believed that the herb thyme contains a variety of alimentary benefits, including high concentrations of vitamin C and potential antimicrobial qualities. Couple that with its delicious aroma and flavor, and you have a great reason to use it in your daily cooking. Here's a great lunch or dinner item to start:
2 boneless skin-on chicken breasts (6 to 8 ounces each)
Salt and fresh ground black pepper
1 tablespoon neutral oil (grapeseed or canola)
2 tablespoons butter
Handful fresh thyme sprigs
Half of a lemon, for serving
Heat oven to 400 degrees F. Pat the chicken breasts dry and season generously with salt and pepper. Heat oil in an oven-safe skillet over medium-high heat.
Carefully place chicken breasts into the hot skillet skin side down. Cook without moving until skin is deep golden brown and crisp for about six minutes. Carefully flip the chicken then add the butter and thyme. When the butter has melted, spoon it over the chicken several times.
Transfer skillet to the oven. Cook chicken for 10 to 15 minutes and until an instant-read thermometer inserted into the thickest part of the chicken breasts register at 165 degrees F. Spoon the thyme butter over the chicken a few times while it bakes.
Remove skillet from oven and transfer chicken to a cutting board. Let it rest for about five minutes before serving. Serve with butter from the pan, as well as with a squeeze of lemon.
Cooking With Herbs Made Easy with Birth Song Botanicals
At Birth Song Botanicals, we care about you, your health, and your family. Try some of these herb-based recipes today and begin to feel better, naturally. As a new mother, these recipes pair perfectly with our Herbal Journey Through Motherhood Ebook or any number of our all-natural, organically-made breastfeeding supplements.
Let us support you on your journey through motherhood with the best products on Mother Earth, made by Mother Earth. Order today or call us at 479-283-7308.