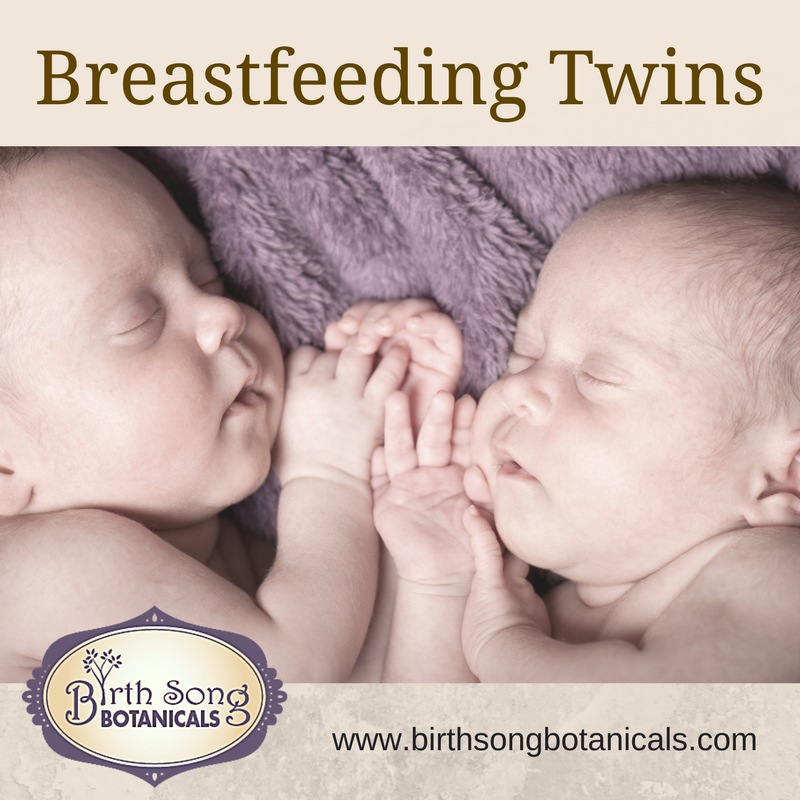 Our Nursing Nectar tea is a wonderful way to support your body when you are breastfeeding twins.
It's always a journey to establish your breastfeeding relationship. Twice the babies seems like twice the efforts and logistics. When you are breastfeeding twins, the things that apply to a single baby aren't quite the same. In some ways, it might be easier, and in other ways it will be more challenging. Knowing what to expect can help you successfully breastfeed your twins. Today, we're going to walk through some of the things that you can do to prepare for your new little ones. 

Preparing to Breastfeed Twins
During your twins' pregnancy, you've eaten more and might have had to rest more than with a single baby. Don't expect that to stop once your babies are born! Breastfeeding twins requires lots of good nutrition to keep your milk supply up while still nourishing your own body.
Have freezer meals on hand: jars or bags of soup, breakfast burritos and regular burritos, casseroles, etc.
Keep snacks like trail mix, fruit, cheese, and crackers close by your nursing "station" so that you can still snack while you're nursing.
After birth, supplement with Let There Be Milk to improve digestion and maximize your nutrient intake as well as galacatogue (supply-boosting) herbs.
You'll also need to have a U-shaped pillow or a special support pillow for twins, or plenty of regular pillows for your arms and back. Getting into a good position for your babies' latch and your own comfort might take some adjusting at first. Take your time to get comfortable while the babies are resting so that you don't settle for any position when they get frustrated. Angry babies and uncomfortable mamas lead to subpar latches.


Getting a Good Latch with Twins
The first step for any good latch is breastfeeding immediately after birth - within the first hour. If your babies are born healthy and able, rooming in is the best option to make this happen.
Because twins are often born in a higher risk scenario, you'll also want to prepare for the possibility that they will be born early or with special circumstances. That's okay! Get a good pump (hospitals and insurance often provide one) and either pump or manually express as soon after birth as you can. Talk with your care provider about ways to feed the babies without a bottle, such as syringes, cups, and fingers.
When it's time to latch, prop yourself and your babies up with pillows as needed. You might need some help from lactation consultants, a postpartum doula, or your partner early on as you get the hang of it. Breastfeeding twins at the same time can help you avoid a constant baby rotation in the first weeks, but you have to have a good latch to make that feasible.

The clutch or football hold can be a good place to start because the pillows support the babies while you keep control of their heads. In this position, your babies would be laying on either side of you, with your arms around their bodies and under the backs of their heads. This is a good way to help them latch and then see them as they nurse.
You can also cradle both of them at the same time by letting their bodies cross in front of you like an X. Their bellies should be touching you, not facing up, and they should have wide open mouths with lips out.

Belly to belly as you recline can be a good option, too. There are plenty of ways to hold your babies as you breastfeed them. The important thing is to watch for that good latch with long, suckling draws of milk. Gather your options beforehand and then see what works for you.
Take All the Help You Can Get
Now more than ever, it's important to lean on your
network of support
. Sometimes that means allowing ourselves to accept help. Other times it means asking directly for what we need.
If someone is going to come see the babies, ask them to take care of the laundry or dishes when they get there. Sure, there are cute babies to hold - but you don't need them taken off your hands. You need to be able to feed and take care of yourself (and maybe there are other siblings, too!) while you breastfeed the twins. If someone is available to support you in those things, let them help!
Parenting is a big job, and
breastfeeding
makes it seem even bigger to those who aren't accustomed to being around it. Mamas have been nursing multiples as long as they have been born, though. With some preparation and support, you are going to do just fine.