Padsicles: DIY Postpartum Ice Packs for Sore Nipples and Perineal Care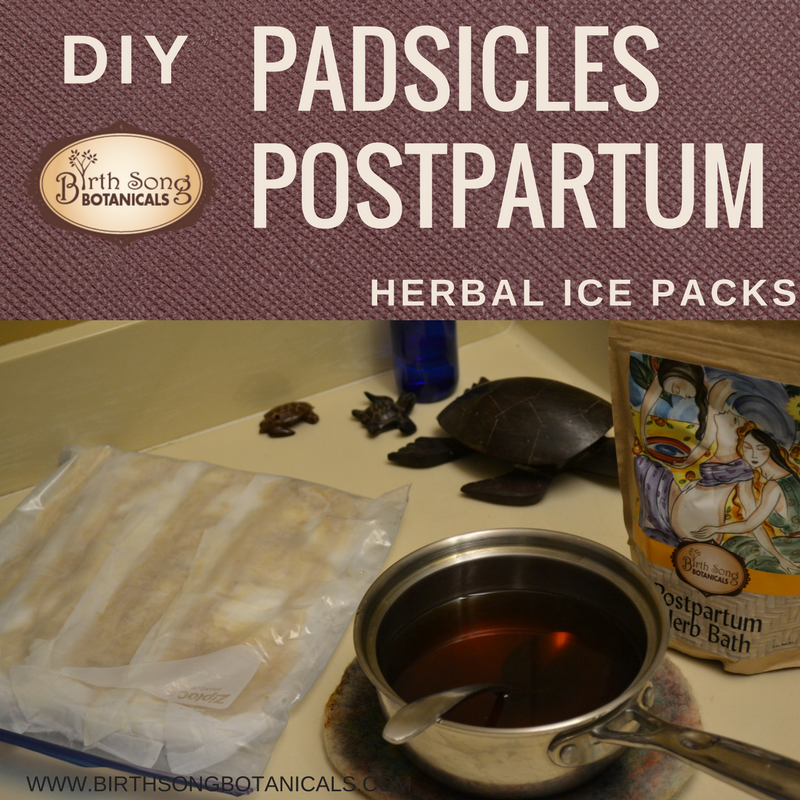 Your amazing body is made to give birth and to recover completely. Having said that, after birth, nipples are sore from breastfeeding and your perineum is (at the very least) tender. It might be torn or have "skid marks." Even without tears, it will be swollen, sometimes in strange ways. Walking around and sitting will both be uncomfortable at times, especially right after birth. When another part of your body is swollen and inflamed, you reach for an ice pack. Though that will work in a pinch, it's not the most accessible area to place a bag of ice. That's where padsicles for perineal relief come in.
Herbal Compresses for Nipple Pain
Read on my friend to learn how to feel better fast. Essentially it is the same process to make cold herbal nipple compresses as it is to make peri cold packs. The only difference is, instead of using an overnight pad, you are utilizing disposable or cloth breast pads. If you are experiencing nipple pain from breastfeeding or pumping, do yourself a favor and read my post How to Heal Sore Nipples from Breastfeeding. 
DIY Postpartum Ice Packs for Perineal Care 
The best shape for an ice pack for your perineum is a pad. Narrow enough to fit comfortably, yet big enough to catch that early, heavy lochia discharge and bleeding. You might already be familiar with the ice pack pads that hospitals sometimes provide. Disposable pads that you "pop" to release the icy, cold crystals that make it cool.
You will want to make your own postpartum ice packs because you might not have access to those hospital pads, plus those pads are not infused with herbs to help your recovery process. Or, you prefer using cloth pads instead of disposable pads. Or, you want to make your own postpartum recovery essentials so you feel a sense of connection and empowerment preparing for your birth and postpartum experience.  For me, the best part about making your own postpartum ice packs is that you are infusing them with the soothing, healing power of all the wonderful herbs in your Postpartum Herb Bath. 
How to Make Your Own DIY Herbal Postpartum Padsicles and Peri Cold Packs

Padsicles or Peri Cold Packs are herbally infused frozen pads for postpartum perineal recovery. They are easy to make and store whether you use cloth or disposable postpartum pads.

You'll need:
Pads (extra long disposable pads with wings for full coverage OR cloth postpartum pads OR newborn/preemie sized pre-folds cloth diapers)
1/4-1/2 package Postpartum Herb Bath, a cloth bag is included in the bath to help strain the herbs.
1 medium-sized cooking pot
Foil or freezer storage bags
Herbal postpartum padsicles are best for the first 24-72 hours after birth when your perineum is the most swollen. Plan to make at least 4-6 pads. If you are using disposable pads, they will absorb a good deal of the bath, so you'll need to use more water and herb baths to accommodate them. Newborn/preemie sized pre-fold diapers can be tri-folded to become pad-sized and work in place of purchasing postpartum pads.
Directions:
Prepare the herb bath according to the instructions in the package. Fill your cooking pot with water and bring it to a boil.  
Place 1/2 the herb mix into the cotton bag and tie closed.
Place the herb bundle in the boiling water.  Cover and remove from heat. 
Let steep for 15-30 minutes or until the bath is cool. The longer the herbs steep the stronger the infusion will be.
Make sure that you press and squeeze the herb bundle to release more of the therapeutic properties of the herbs into your bath.
Gather the pads you'll be using.  
If you are using disposable pads, simply open up the plastic covering and keep the pad stuck to the plastic backing.  Using a large spoon, slowly ladle the herb bath onto the pads (You want the herb bath to soak into the pad yet not over-saturate it). Re-close the plastic wrapper and place the pads into a gallon-sized ziplock bag and place it into the freezer.
If you are using cloth pads you can dip the pads, one at a time, into the bath and set on the cookie sheet. Layout one layer per cookie sheet, then set in the freezer.
Freeze overnight, then package into storage bags or wrap in foil and return to freezer until birth.
When you are ready to use a pad, pull it out of the freezer and let "thaw" for about 5 minutes before you place it on your tender tissues.
These herbal padsicles have both a cooling effect and deliver soothing, antiseptic herbs right to the perineum to move the healing process along. These pads are safe for stitches, too. You might want to alternate the frozen postpartum padsicle pads with regular postpartum pads to give your body a break from the ice. I have a complete After Birth Perineal Care Essential Guide which is a must read if you have stitches!  It is filled with practical tips to help you recover quickly and completely!
Herbal remedies are made simple by starting with a pre-prepared product like Postpartum Herb Bath. You know the ratios and ingredients are safe and reliable for exactly what you need. 
For another creative way to use Birth Song Botanicals products, is to make labor tea or labor popsicles with herbal Lady in Waiting Pregnancy Tea.  Simply make a strong batch of tea, blend with your favorite fruit juice, and freeze into popsicle molds.  Labor popsicles are a fantastic way to stay hydrated and nourished in labor.
Until next time my friend, place a cold herbal compress on your sore nipples, sit on a padsicle, soak in a herb bath, drink tea, and love that sweet baby!
Hugs,
Maria
Remember to:
Like our Birth Song Botanicals Facebook Page

Follow Birth Song Botanicals Co. on Instagram

Read our Birth Song Botanicals Blog

Watch Birth Song Botanicals on Youtube

Listen to Birth Song Botanicals on SoundCloud

Be inspired by Birth Song Botanicals on Pinterest