After Birth Recovery Products New Moms Need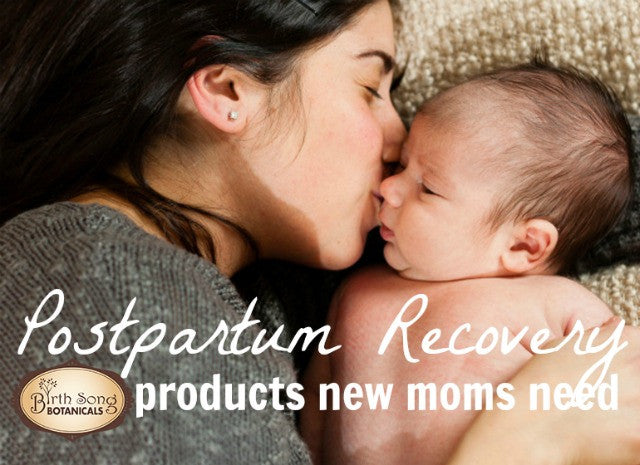 Pregnancy can be a time of magic and mystery, discomfort and struggle, happiness and health – sometimes all in the span of a moment! Birth is a similar conglomerate of feelings, accomplishment, learning, growing, and becoming. So, when the baby is out and all of that comes to an end, you need some serious postpartum recovery support.
The Sudden Shift from Pregnancy to Postpartum
After you've done the work and have pushed a new little human out of your body and into the world, your body knows it's done something incredible. Every muscle screams it. Your organs seem to fall back into place with every step, every inch of your bottom aches, feeling bruised, swollen, heavy, and in shock.
Nipples may be cracked and sore, on high alert as a nursing relationship is established. Postpartum bleeding is in full force, even more so every time you move or step.
And if that weren't enough, those labor pains you just worked through may not stop for some days – more intense with each subsequent child and peaking as you nurse.
Your whole body is working to return to some state of normal - or at least the new normal that will happen now that baby is here. Using herbal products to support this process can help your postpartum recovery to progress much more efficiently than it would otherwise.
Every ache and pain has a reason and a purpose; good herbal postpartum recovery products honor those reasons and help to facilitate them in soothing, comforting ways.
Top 5 Herbal Postpartum Recovery Products
To help the new mother adjust to postpartum life with all of the care that I would provide if I could be her midwife, I've put together my top 5 favorite postpartum herbal products into one simple yet comprehensive postpartum recovery gift set.
Each product is designed to ease the transition from pregnancy into motherhood, calming the inflamed, achy, unfamiliar symptoms that accompany this dramatic shift that your body will so skillfully – though uncomfortably – make.
Postpartum Herb Bath


The postpartum herb bath is one of the most soothing and wonderful moments after birth. Anti-inflammatory herbs like calendula and plantain meet healing shepherd's purse and yarrow, giving mama a place to calm those angry lady parts. Not only that, but it's healing for baby, too. While recommendations usually are to avoid submerged baths until the cord heals, the postpartum herb bath will actually help to heal the cord. Watching your baby relax into a familiar warm water environment while your muscles, hemorrhoids, swelling, and bleeding are eased is one of the most calming, satisfying times.
Nurtured Mother Tincture


Afterbirth pains can feel like a bait and switch. You've done the work to get through labor – why are you still working through contractions?! The afterbirth pains are working to move your uterus back to its normal size, expelling the bleeding and returning your body to normal as quickly as possible. Unfortunately, it can be painful. Nurtured Mother afterbirth relief is a carefully blended tincture that helps your body through this process. Cramp bark and red raspberry leaf are standout ingredients known and loved for their uterine toning and calming effects. Instead of just masking the pain, support the process as well with Nurtured Mother.
Organic Herbal Nipple Salve


Keep Nipple salve near you for whatever ails you and baby. Cracked and sore nipples, diaper rash, even bumps and owies on toddlers and bigger kids. Calendula makes an appearance again, as well as Oregon grape root – a more sustainable version of the familiar healing goldenseal.
Nursing Nectar Breastfeeding Tea


It can take some days for milk to come in fully, and in that time you and baby will do a lot of nursing to get the hang of latching, regulate your soon-to-come milk supply, and fulfill baby's need for closeness. This can be difficult and draining. If you thought you were eating for two before, you'll get a better sense of what that really means as your body works to produce milk. Stay hydrated while also supporting milk production, relaxation, and milk flow with Nursing Nectar mother's tea.
Let There Be Milk! Breastfeeding Tincture And Capsules


When milk supply becomes a concern, there's no need to panic. A tinctured blend of supportive herbs helps to boost milk supply and support your body in the milk-production process. Not only is it good for lower milk supply, but it is also great for milk quality. Let There Be Milk can help to "fatten up" hind milk and help babies who are slow to gain.
If the birth is a caesarean birth then keeping the incision site clean is essential.  Our antiseptic herbal spray can keep the site clean and feeling fresh.  As your tissues heal they may seep fluids that need to be tended to.  I suggest to use the spray as often and liberally as you feel.  It smells great and can really help you take a proactive role in your recovery process.
To further support a new mama through the struggles of early postpartum days and weeks, I also recommend getting a really good nursing pillow to prop up tired arms and hold that snuggly baby in a good nursing position.
A baby carrier is wonderful for the infant, who is used to being close to your body and heart, and the mama, who would like to have her hands free to move around. Especially if you are already a mom to little ones, a good baby carrier is invaluable.
A good stash of diapers is important, too, and even more so if you are using cloth. Make sure you have the leeway to not wash laundry for a few days at a time – and designate someone else in the house to do it for you!
Planning for a Supported Postpartum Recovery Period
In spite of the physical toll that birth takes on your body and the swings in emotions that having a newborn can create in your mind and hormones, a babymoon can have many, many blissful moments.
Getting to know your new little one, smelling that newborn smell, feeling their velvety skin against yours. Little fingers exploring their new world, siblings meeting their soon-to-be best friend. Snuggles in the dim morning light, time seeming to melt away…
The more postpartum support you have, the more you'll be able to enjoy those moments and even days of new baby bliss.
Reach out to your support network. Some ideas for postpartum planning might include:
Have someone organize a meal train for as long as they can in the early postpartum recovery days and weeks.
Assign family members to laundry and dishes and other chores.
Talk with your kids about what to expect and how they can help.
Prep a quiet bag for little ones to enjoy while you nurse or sleep with the baby.
Prep (or have your partner prep!) snacks and containers of water that you can keep near while nursing or when you just don't want to get up.
By directing some of your nesting energy toward postpartum preparations, then having a good stash of herbal postpartum recovery support products on hand for after the birth, you can let the herbs and your loved ones shoulder some of the effort for you.