Guide To Children's Coughs, Colds & Flus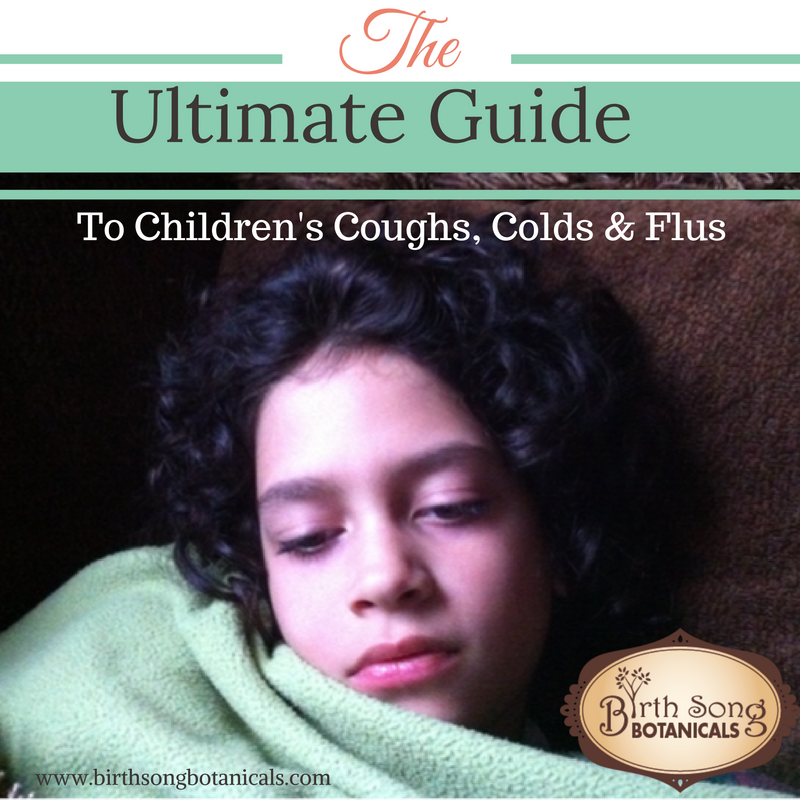 The Ultimate Guide for Children's Colds and Flus is a collection of articles that you can refer to to help deal with childhood illnesses. These articles focus on children's coughs, colds and flus, fevers, when to call the doctor, how to cook with medicinal herbs and how to keep your children healthy so they don't keep getting sick. 
Did you know that in the United States, each year on average 5% to 20% of the population gets the flu and more than 200,000 people are hospitalized from seasonal flu-related complications*. 
According to USA Today, Yahoo Health, and WebMD, Americans spend billions of dollars on missed work, doctor visits, extra child care, and the treatment and prevention of the most common cold and flu viruses*.  We have an average of 20 million missed school and workdays annually!  That's a huge problem.
-*Center for Disease Control and Prevention  *WebMD
We all want the best for our children, but sometimes it can be difficult to know what to do. Especially when it comes to wellness, we want to know how to keep our kids from getting sick, or how to break the cycle of perpetual sickness that seems to come up from time to time. Use these immune boosting herbs to help keep your little one happy and healthy no matter what.
Continue Reading about Immune Boosting Herbs For Kids...
In our family, food is our medicine. When the weather gets cooler, the teapot and soup pot stay on the stove. When a family member begins to feel like they are getting sick, we eat our medicinal herbs for dinner.
Cooking with medicinal herbs is an excellent way to get "non-compliant patients" to take their herbal medicine. They don't even know it's in there; they think they're just eating dinner!

Continue Reading about Cooking With Medicinal Herbs...
I want to dispel the myth that herbal medicine and Western medicine are incompatible. There is no one system of medicine that fits every body and every situation. It is completely appropriate to integrate the two methods. 
As a parent, I want to know when to seek medical help when my child is sick.  Here is  list of 12 reasons to seek medical help. When in doubt check it out.

Read 12 Reasons to Call The Doctor...
After working with my own family and midwifery families, I began to realize the remarkable benefits thyme has to offer to our children. 
Thyme, thymus vulgaris, is a powerful decongestant and is recommended as a steam inhalant, gargle, and bath when someone has lung congestion, a sore throat, a cough and over all body soreness.

Read about How to Make Baths, Steams & Gargles for
Sore Throats and Lung Congestion...
As a busy mom, you'd love to just cuddle your coughing child until they feel better, but the world keeps moving and you've got to keep up. Taking a miserable, sick kid along with you throughout normal day-to-day tasks is awful for everyone, especially when they've got a cough.

Read about 5 Herbs To Help Relieve Your Childs Cough...
Fevers are nature's way to rid the body of infection and are actually a sign of a healthy immune system. On the other hand, they can be dangerous if they get too high or last too long. Children tend to run hotter than adults do, as well.

Read More About Treating Childhood Fevers With Herbs...
If these blogs are interesting to you and you want to know more about herbs for the cough cold and flu season then you will love my Herbs for Kids Free Online Course!

As a parent,  do you find yourself asking about when to seek medical care when your kids are sick.  Or want to know what herbs are safe for children.  How much to give them?  And what illnesses are good to start with herbs when working with children?  

Do you want to learn how 16 child safe herbs can help keep your children heathy this cough, cold and flu season?

If So..

Click Here To Enroll In Herbs for Kids  Online Course
Throughout the centuries parents have turned to herbs for children's coughs, fevers, lung congestion, stomach ache, irritability and daily wellness.  Modern parents are busy people who want high quality, natural, eco-friendly herbal remedies to help them keep there kids healthy.